Countdown To Tubal: Post Tubal Ligation Syndrome?
2 days left before my tubal ligation!
Edit 2012DEC19:
Over the past year since I've written this, I've seen by the comments just how illogical people can be. It's amazing how, in response to a post in which unsupported self-diagnosis and anecdotes of nobody laymen are categorically dismissed in favor of the scientific evidence that sits contrary, people can seriously think the posting of THEIR OWN unsourced, laymen self-diagnosis and anecdote will be somehow special. As if suddenly their own baseless assertions are somehow more convincing than anyone else's. As if theirs is somehow better than all the evidence and indeed, basic logic against.
One word people: "EVIDENCE!" I've brought mine, not that the burden of proof is upon me anyway. Where's yours? Put up or shut up.
By the way, my one year tubaliversary came and went some months ago, and here is MY personal anecdote: I'M FINE! Of course, my current condition actually is in keeping with scientific medical data. It turns out, Fallopian tubes perform no function vital to health and can be safely severed. If that fact surprises you, let me tell you that it's OK to trim your hair and nails too, if you were worried.
Yesterday, I had my pre-admissions and pre-op appointments for the tubal ligation I'm scheduled to get on Monday. Due to a bit of chaos in scheduling (I fucked up) it was a bit of mess that had me scrambling back and fourth between different clinics in the hospital. Thankfully, that's all out of the way and my TL is good to go! Yay!
I'm remembering how difficult it was to find accurate information on tubal ligation, having to navigate through all the anti-choice bullshit, sexism, and religious fear-mongering, much the same as I'm used to seeing in reference to abortion, or any other type of women's rights. That much was easy to ignore.
One thing that struck me was what happened when I did a simple Google search on the procedure. Several of the links lead to sites that warned against something called Post Tubal Ligation Syndrome, almost all of which being on the sites of doctors and clinics who profit from tubal reversal. However, I couldn't find one that cited any research on the subject. In this case, I'm very much reminded of the popular anti-choice myth of post abortion syndrome.
The rest were a few scattered personal anecdotes of people who claim to have PTLS (whether they were formally diagnosed or just diagnosed themselves is not clear,) many of which claiming to have wildly differing symptoms. Apparently, if there's anything wrong with you, be it having periods, headaches, or a cough, and you've had a tubal ligation during your life time, the tubal must have caused it. (Ok, fine, here's a list of the symptoms attributed to PTLS. It's from a page advertising tubal reversal, of course, as I couldn't find any legitimate medical organizations that didn't that even mention PTLS. Interestingly, I haven't even had my tubal yet and I already occasionally experience a few of the symptoms. What, does it all start early?)
I am a skeptic by nature. I believe all positive claims require positive evidence. This isn't just a stance I take with religion, but with everything. I don't doubt that most of these women do actually have the symptoms that they claimed, but I didn't readily accept that a tubal ligation was a cause, mostly because it didn't make any sense as the ovaries and uterus are left be, they're just not connected by the Fallopian tubes. At the same time, I couldn't completely dismiss the idea of a tubal ligation possibly causing problems for a minority of women, not being a doctor myself and all. It does seem to me though, that if people are going to claim something to be post tubal ligation syndrome, the symptoms should be consistent and there should be strong evidence to suggest that the symptoms of so-called PTLS are actually linked to having a tubal ligation.
So, I did my research. Not only could I not find a single thing to support the idea that a tubal ligation causes any of the symptoms supposedly caused by PTLS, but the studies I did find utterly debunked the idea of PTLS altogether. So I tried looking for medial organizations which recognized PTLS. Apart from Drs advertising tubal reversal, I couldn't even find PTLS taken seriously anywhere. I asked a friend of mine who is studying to work in the medical field to check her copy of her ICD-9 (2008) to see if she could find post tubal ligation syndrome/post tubal sterilization syndrome listed. It should have been between "Post-traumatic stress disorder" (309.81) and "Post-typhoid abscess" (002.0), but it just was not there.
I made a comment stating my disbelief in PTLS on a website I like (although I don't always like the more insular commenters,) My OB Said What. A woman reported menstrual changes to her doctor, who told her that they were not caused by her tubal ligation and recommended hormonal birth control to control her periods, to which another commenter respond in outrage that Drs should warn women of post tubal ligation syndrome. I had heard something similar from my own OB/GYN while discussing tubal ligation with him. He told me that some women use hormonal BC to control their periods after having a tubal. It doesn't seem to have anything to do with the tubal itself, it's just that not all women have regular periods all their lives without BC. A tubal ligation will "cure" fertility, but not being female. This is what I talked about in my comment, in which I also cited a study demonstrating that tubal ligations are not linked to menstrual abnormality, in response to another commenter who was happy to throw the term Post Tubal Ligation Syndrome around.
Almost immediately, I had an entire mob of women telling me how awful I was. I'm rude, anti-child, and have "blind-faith" in the evil medical establishment. That's what I was told for citing a scientific study published in a peer-reviewed medical journal, rather than just mindlessly joining the bandwagon in blaming tubals for symptoms X, Y, and Z, just like the similarly misinformed blame life-saving vaccines for autism, and abortion care for breast cancer or the fictitious post abortion syndrome. It's as if they thought deferring to actual doctors on medical issues was akin to admitting to being a minion of Satan. What was really telling, I thought, was when the people who apparently believed in PTLS, as part of scathing replies to me, said things along the lines of "I hope you don't suffer PTLS." If I can judge from whatever tone text may be said to have, it seems to me that they meant the very opposite of what they typed. What lovely people! I really want to take their unfounded claims seriously now!
I replied once again that if these people can point out any flaws in the study I provided, or can provide their own data in support of the validity of PTLS, then I, as someone who will be getting a tubal ligation in a few days (WOO-HOO!) would sincerely like to see it. Surely these people accusing me of "blind faith" have some hard facts to support their position, as I do. So far, I've gotten plenty of unkind responses, even outright bullying behavior, yet no one has risen to the challenge. I wonder why.
As of the time of writing, I disbelieve in PTLS, as there is no verifiable evidence for it, and a considerable amount of evidence against it. I will be prepared to change my mind should new evidence lead me to do so. I don't think that's likely though. PTLS seems to be a hoax that money-grubbing doctors are happy to promote, and a condition that non-medical professionals choose to diagnose themselves with.
So what about the symptoms people claim to have? Again, I don't doubt that at least most of the people who claim to have symptoms actually do have them, I just doubt that they're caused by tubal ligation and it makes any sense to call it PTLS. As the supposed symptoms are so varied, I wonder if many of the women are afflicting with completely different conditions from each-other, and all just self-diagnose themselves as having PTLS, which would be quite alarming as the real cause would continue to be ignored. It could be menopause (compare this list of menopause symptoms to the list of PTLS symptoms,) effects of coming off hormonal birth control or giving birth, effects of chemo therapy, or primary ovarian insufficiency.
Or maybe it's a psychosomatic issue, wherein stress or feeling of regret manifest in a way that affects bodily processes. That would make sense as many of the women who do get tubal reversal go on to have additional children. No one I know of who thought through their decision carefully claims to have PTLS. I know many women who have had tubal ligation, and not one of them reports any issues. I'm active on two different childfree message boards and on each of them there exists a significant portion of the membership who have had tubal ligation. None of them report any issues.
At yesterday's pre-op, I asked my OB/GYN about PTLS. He agreed with me, for whatever that's worth. So no, I'm not worried about getting post tubal ligation syndrome, as a few woman on MOBSW who think they know more than doctors merely because they've had kids, hope I will won't. I don't believe that PTLS is a legitimate condition. If new evidence contradicts my understanding, I'll happily change my position. Until then though, I'm not buying this bullshit and look gleefully forward to finally being fertility-free Monday.
Edit 02/16/12
Since the upload of this video, people arguing for the existence of PTLS being a real and correctly named condition have argued that it may be caused by changes in blood flow to the ovaries. Well, that's odd. You would think that loss of blood flow would affect everyone in about the same way. Still, I looked into it anyway.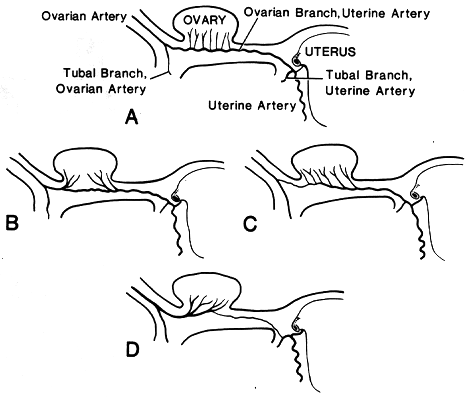 So, as you can see, the ovaries are supplied by the ovarian and uterine arteries, neither of which pass through the fallopian tubes. As for the small blood vessels that branch off the ovarian artery and supply the fallopian tubes, none are of significant contribution to the ovaries, as far as these diagrams show, anyway.
Posted on 2011/07/09, in Atheism, childfree, Countdown To Tubal, Diary, Feminism, Prochoice, Science and tagged atheism, atheist, birth control, childfree, countdown to tubal, feminism, feminist, free thinker, free thinking, pro-choice, prochoice, science, sterilization, tubal, tubal ligation, women. Bookmark the permalink. 330 Comments.